When I decided to get into canoe/kayak fishing I had some priorities, 1. since I would be alone it had to be easy to cartop, and 2. it had to fit in the garage of my townhouse. After some research I decided canoes would be the lightest and most versatile, more storage area, dryer, good for camping and touring.
I found out that there were several small builders making them out of high tech materials of kevlar and carbon fiber, designed to sit in the bottom and double paddled like a kayak. These builders were from up state NY where light weight canoes are needed since you have to portage or carry your canoe alot because there are not many roads to access many of the lakes and rivers. I decided on Hornbeck canoes based on overall design and value -
http://www.hornbeckboats.com
They are a family owned business that have been building canoes for 30 yrs. The offer them from 9 ft. to 16ft. I decided on the 14 ft which can be set up for solo or tandem use. They offer them in Kevlar, carbon fiber and a combo of both.
I decided on the Kevlar/carbon combo for light weight and durability. While it is initially a little tippy its width above the waterline gives it very good ultimate stability. It tracks very well and is quite fast. I can one hand it off the car top, load all my gear in and pick it up and walk it to the water
My canoe weighs about 25 lbs.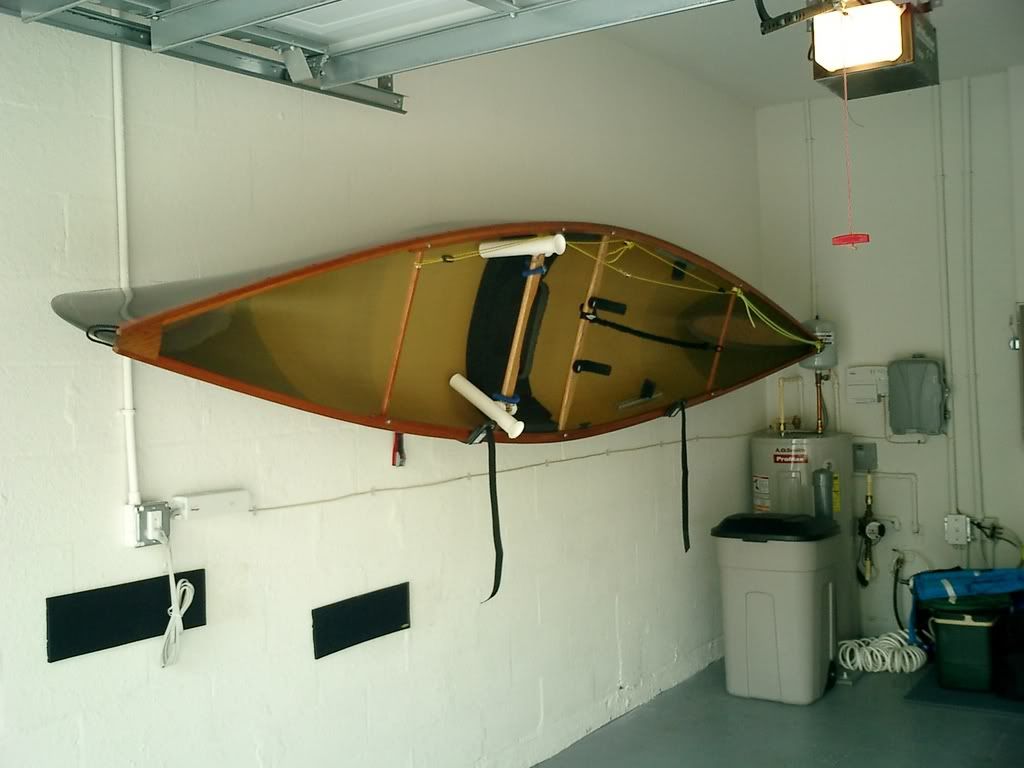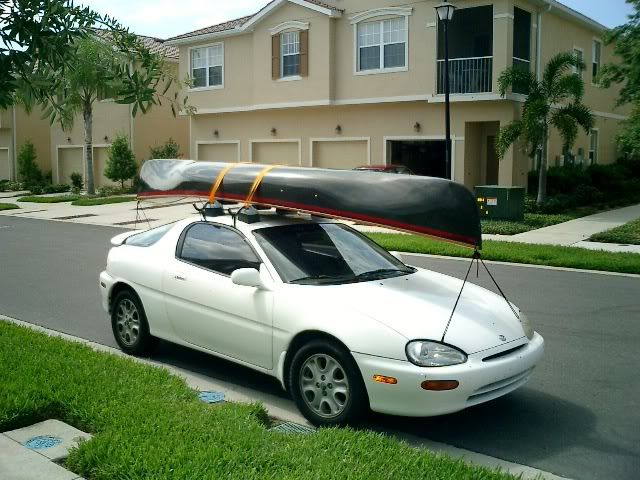 It needed some rigging for fishing, I mounted some rod holders on the aft thwart
The short rod in the picture is an Emmrod that is perfect for trolling keeps the line low so dont have to have so much line out.
Also added some coil teathers to keep the rods with the canoe in the event of capsize
Even though it comes with a very comfortable foam seat with back rest, to have even more comfort I added a Crazy Creek canoe seat.
The paddle I selected was a Werner Kaliste, this paddle is a two piece with adjustable blade angle and only weighs 21oz, I put an adhesive measurement tape on it so with the paddle teather I can toss it in the water bring the fish along side for a quick measurement and quick release.
To avoid bull sharks I decided not to keep kept fish on a stringer so after some web search found the Sea Angler bag, the one I chose is actually made for bait, but the pockets are perfect for refreezable packs and the bag fits in the canoe well.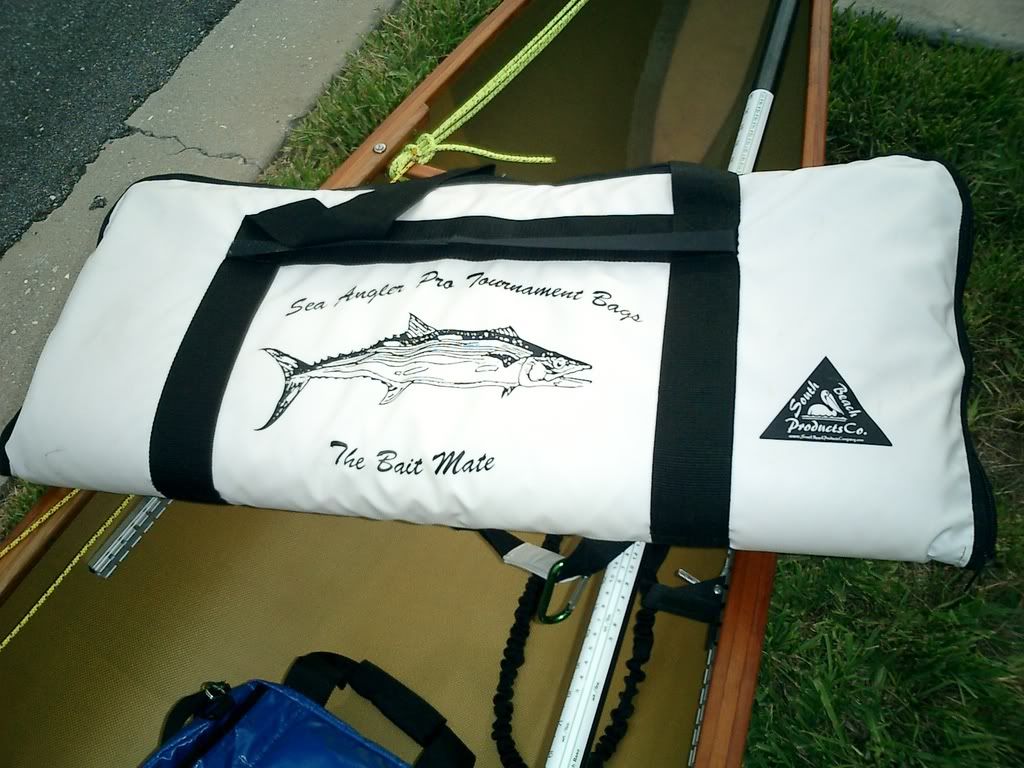 For anchoring I installed cleats on both sides and an anchor bridle attached to fore and aft thwarts so I can use the anchor bridle on either side of the canoe. I made an anchor bag I hang from the cleat that holds the 1.5 lb grapnel anchor, polypropelene rode, and drift sock
It takes time to figure out what works best, I thought stabilizers might be a cool idea, made some out of carbon tube and tried them, even though it allowed me to stand more securely I came to the realization that I don't need to stand that much, they made noise when in the water, longer set up time, windage, something to get fish line caught on etc. so have decided I don't need them, (they're for sale)
I am very happy with the decision to go with this type of boat, the light weight makes all the difference and to me is worth the cost. Here is a snap shot of a snook hooked while trolling with the Emmrod.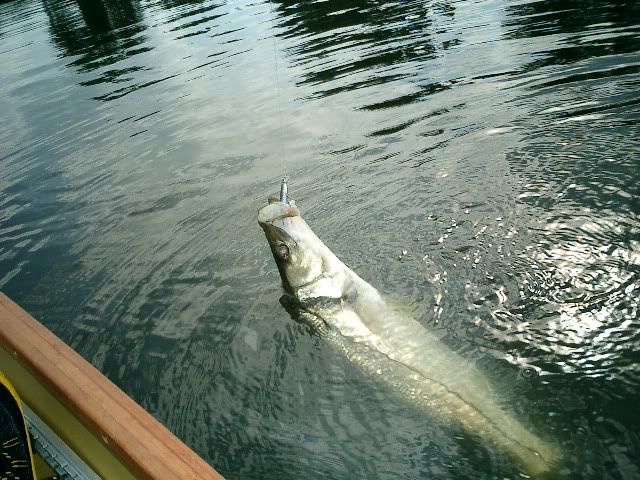 The more you fish the more ideas to make it easier and cleaner. Painted the hull flag blue Awlgrip, to make it easier to repair scratches. Catalyst 20 reels matched with 6.6' St. Croix med light fast action rods seems to be a really light balanced combo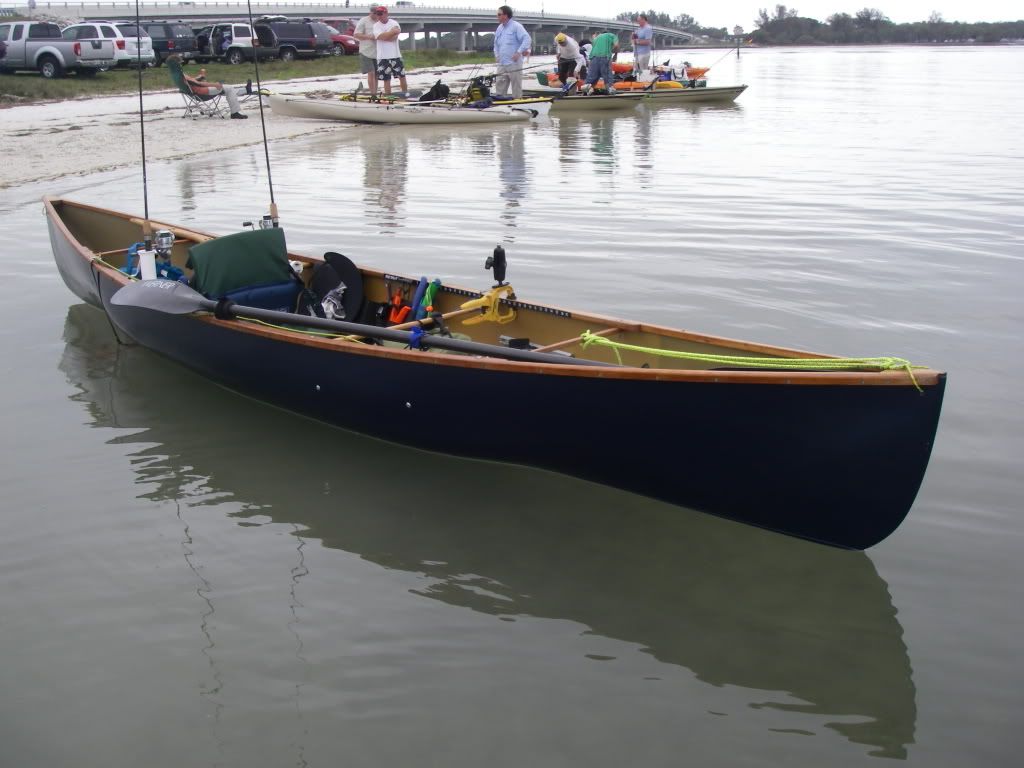 Wanted to start playing with video pics with Pentax opti 30 so bolted a Ram mount to a quicki clamp, and added a leash, easy to adjust or rotate, quicki clamp makes it easy to move or remove camera.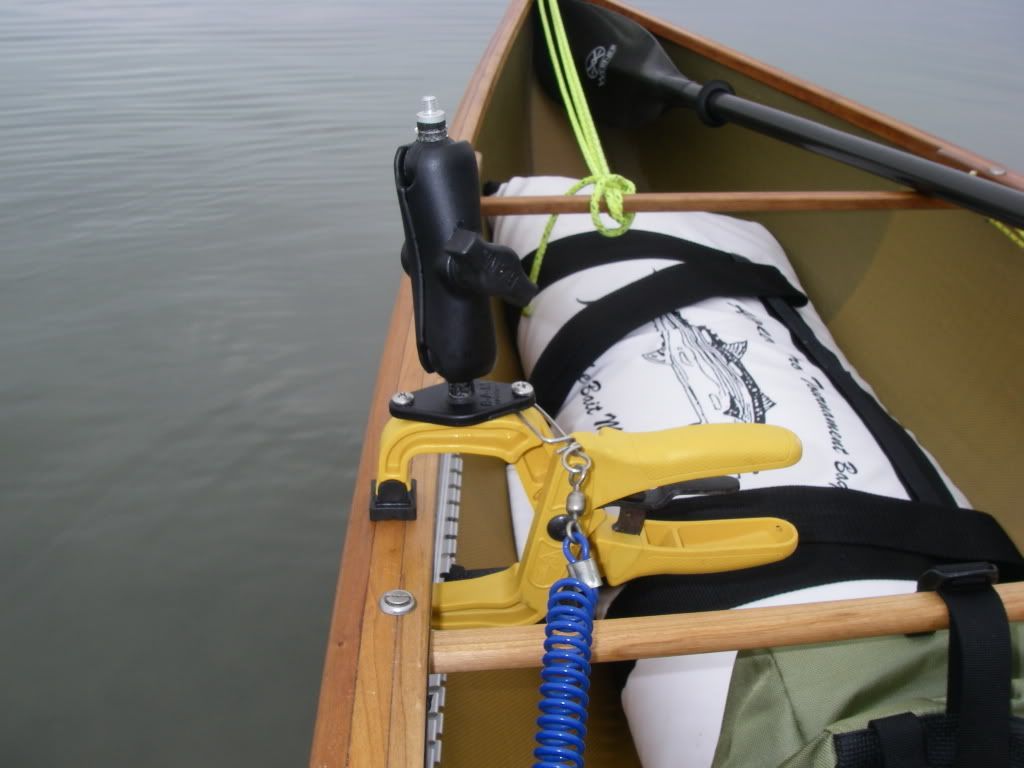 Added another thwart so I could hang a thwart bag that holds all tackle and other odds and end. Also good place to secure light weight paddle leash, and it actually stiffens up the canoe. Fish bag is still working great, not only for fish but drinks and food too.
Needed a way to secure the paddle when fishing so installed a velcro collar to the rail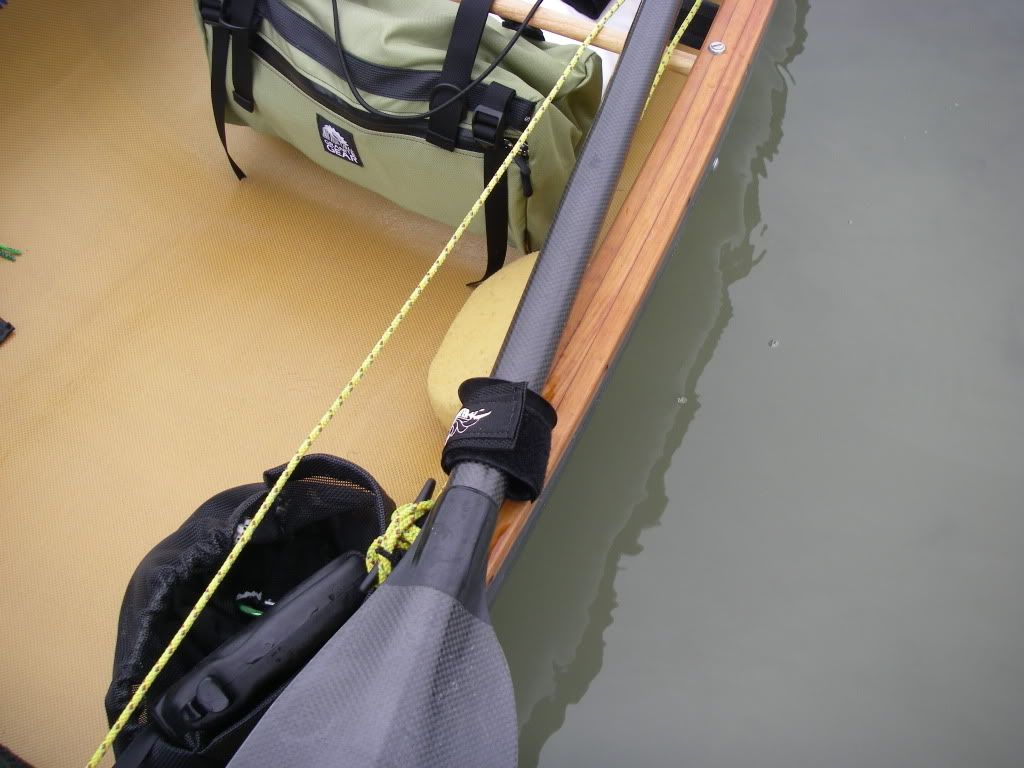 Made an equipment bag to hold fish glove, dehooker, fillet knife, lip grabber, pliers. Also added a measuring tape to the gunnel for quick measurements
Also made a bag to hold anchor, and sea anchor, replaced line with a dog leash, and went to 3lb anchor in lieu of stake out pole, stow anchor in the ready position behind seat, just reach behind and toss it in the water for a quick stop. Dog leash is right next to seat for easy adjustment of leash and anchor trolley. Visable in photo is new air canoe seat, with air lumbar support cushion can now go all day without numb butt.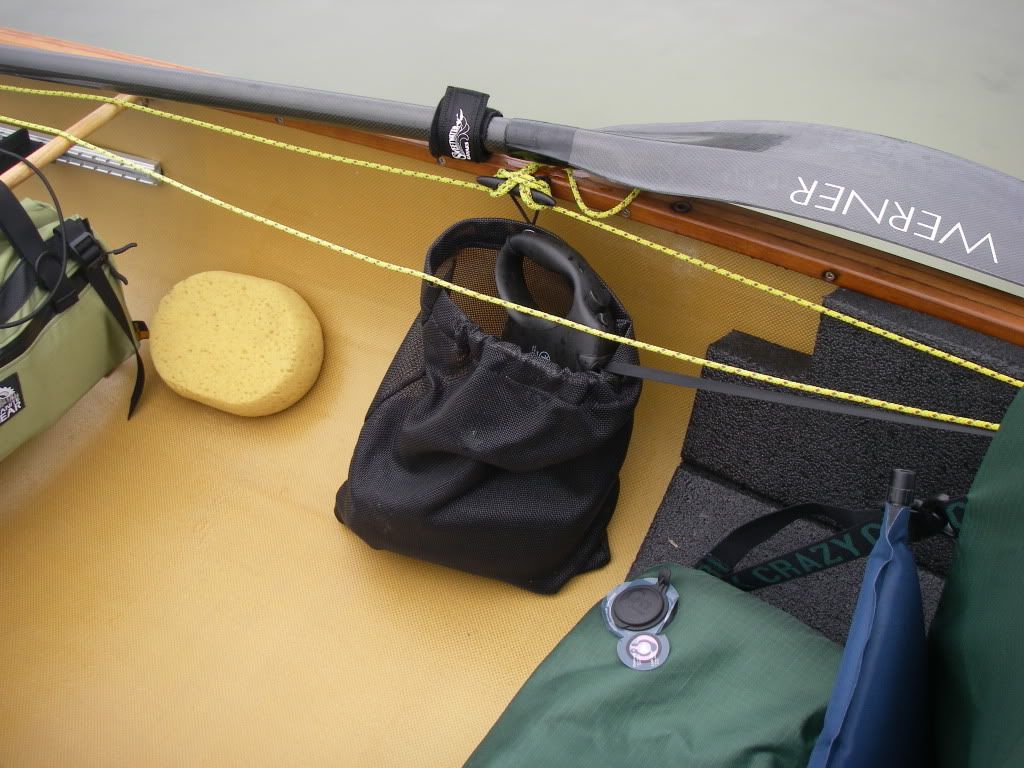 Things are working really well now, but will still look for more refinements
[/img]